Preamble
In the 12th issue (November 2021) and 14th issue (March 2022) of this newsletter, we featured two Nobel Laureates in Physics, Professor Yang Chen-Ning and Professor Charles Kao respectively, introducing their outstanding scientific achievements and their close relationship with Hong Kong over the years.
In this issue, we will introduce another Nobel Laureate in Physics - Professor Daniel Chee Tsui, who also has a long-standing relationship with Hong Kong, for his outstanding research in the electrical properties of thin films, microstructures of semiconductors and solid-state physics and his secondary school years in Hong Kong.
Professor Daniel Chee Tsui
"I tend to partition my life into three compartments: childhood years in a remote village in the province of Henan in central China, schooling years in Hong Kong, and the years since I came to attend college in the United States," said Daniel Chee Tsui, the 1998 Nobel Laureate in Physics, in the autobiographical sketch published by the Nobel Foundation[1].
Childhood in a Remote Village
Daniel Chee Tsui was born on 28 February 1939 in the midst of the Sino-Japanese War, in Fan Village, a less developed area in Henan Province plagued by droughts, floods and war.
Like most of the villagers of the time, his parents were both illiterate and had never had the chance to learn how to read and write. Despite the multiple difficulties they faced in their drought-prone, war-torn village, his parents went to tremendous lengths to care for their children. "They suffered from their illiteracy, and their suffering made them determined not to have their children follow the same path at any and whatever cost to them," said Tsui in his autobiographical sketch[2].
Tsui received his primary education in a local school and completed his primary school life at the age of ten. Since there was no middle school in the area, he could only drop out to help his parents with farm work until age 12. In early 1951, his parents made the tough decision to send him to Hong Kong for a better education, neither he nor they knew how far it truly was. Regrettably, he never had a chance to see his parents again after this move as they passed away in the 1950s and 1960s respectively.
Schooling Years in Hong Kong
Hong Kong was the place where he discovered the joy of learning and began to develop deep, long-lasting friendships with others. To Tsui, Hong Kong seemed more like home as he once said, "Home does not necessarily mean a house. Home is a feeling of warmth rather than a place."[3].
Leaving his hometown at the age of 12, Tsui proceeded to live with his two other sisters in Hong Kong. He began his formal education at the sixth-grade level and found it difficult to learn Cantonese. His schoolmates helped him by offering him their friendship, bringing him into their circle and letting him join their out-of-class activities. In his second year in Hong Kong, he attended Pui Ching Middle School, which was known for its performance in natural sciences subjects and from where many well-known scientists like Shing-Tung YAU, Alfred Cho, Yum-Tong Siu, Lu-Jeu Sham graduated. Tsui described school teachers at that time were "overqualified", as they would have been distinguished academics and scientists because they were all from China's leading universities, such as Peking University.
"The upheaval of war in China, however, forced them to hibernate in Hong Kong teaching high school kids. They might not have been the best teachers pedagogically, but their intellects and their visions inspired us. Even their casual remarks and the stories from their romantic reminiscences of the glorious days at Peking University could leave indelible marks on us. It was they, I think, who in their unconscious ways dared us students, living in a highly commercialised city, to look beyond the dollar sign and see the exploration of new frontiers in human knowledge as an intellectually rewarding and challenging pursuit," exclaimed Tsui[4].
Tsui shared some joyful moments with his classmates during his time at Pui Ching Middle School, like speculating on the examination questions, giving their teachers nicknames and even stealing lychees at Tsuen Wan lychee fields. His classmates made the following remarks about him in their graduation yearbook in 1957: "A height of six feet, among the tallest. Extremely gifted, excelling in classes. Proficient in Chinese, English, and Mathematics. Yet, he is negligent in minor matters. He sometimes took a nickel as a quarter. When he writes, his pen flies and dances. With scripts and calligraphy like messy blades of grass. When he conducts, his hands and feet swing like kung-fu masters, but when he sings, his tenor voice moves others, with a poise and charisma that impress the audience. The darling treasure of his 'Ai' Class. Faithful follower of Jesus Christ."[5] Kwong-Tak Chang, retired principal of Pui Ching Primary School, also said Tsui gave others the impression of a modest gentleman with no hint of self-importance or vanity.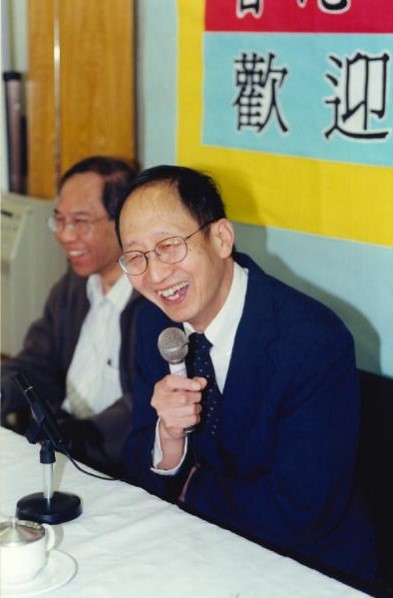 Tsui gave others the impression of a modest gentleman with no hint of self-importance or vanity.
Upon graduation from Pui Ching Middle School and passing the Chinese High School Certification Examination with distinction in 1957, he decided to enroll in the Special Class Centre set up by the Hong Kong Government for a 2-year matriculation programme, which aimed at preparing top-notch Chinese high school students for admission to the University of Hong Kong (HKU), instead of accepting an offer from the medical school of National Taiwan University. It was not an easy task for a Chinese middle school graduate to be admitted to HKU, given that The Chinese University of Hong Kong and other universities were yet to be established. HKU was the city's only university, with around 4,000 students, about 0.1% of the population of Hong Kong.
While studying hard for his entrance examination, exciting news came from afar – Yang Chen-Ning and Lee Tsung-Dao were jointly awarded the Nobel Prize in Physics in 1957 – this greatly impacted Chinese students of the generation, including Tsui, heightening their determination to study physics. In late spring of 1958, he received a full scholarship to Augustana College, his church pastor's Lutheran alma mater, in Rock Island, Illinois, United States and spent three years there. Tsui described those three years as the best of his life as he was free to read, to learn, to think through things, to wrestle with his Lutheran faith at his own pace and make some sense out of his life experience for the first time.
Years in the United States
"Studying in school is like a sightseeing trip. During the trip, the scenery is spectacular because everything has already been prepared by predecessors for you to enjoy piece by piece. Yet, it's only for sightseeing. This is not the case with conducting research; you have to go alone. The scenery over there is stunning and worth seeing, but how to get there? There is no road, no one has been there yet, it is a bit of an adventure, but that is what makes it interesting," said Tsui during a chat with science students of HKU[6]. Upon graduation from Phi Beta Kappa in 1961, one of the oldest and preeminant academic honour societies in the United States, Tsui followed the footsteps of his two role models during his high school years, Yang Chen-Ning and Lee Tsung-Dao, to enter the University of Chicago to continue his study in physics where he met his mentor, Royal Stark. Professor Stark, a solid-state experimentalist, took Tsui on as a research assistant and helped him to build up his laboratory. He later described Tsui, of all his graduates, as "the only one that I would consider to be my son". Tsui realised quite early that he would like to work on experimental physics but lacked the capacity for massive experimental setups. Under the supervision of Stark, he was able to experiment with everything in his laboratory and learn from the ground up: from engineer drawing, soldering, machining, and from design to construction and building of laboratory apparatus. In 1967, Tsui received his PhD and remained at the University of Chicago for a year of postdoctoral research before joining the renowned Bell Laboratories in 1968 as a researcher focusing on solid state physics, particularly in semiconductor research. Tsui did not venture into main stream topics in semiconductor physics, like optics, high energy band-structures, or their applications in devices, he wandered into a new field called the physics of two-dimensional electrons. At Bell Laboratories, where he worked with Horst Störmer, the two of them have brought new insight into the physical world and startled all physicists, leading to a breakthrough in our understanding of the behaviour of microscopic quantum systems. They collaborated to work on the Hall effect, which was discovered in 1879 by an American Edwin Hall. When an electrical current is sent across a thin sheet of a conducting material in the presence of a perpendicular magnetic field, a voltage - the Hall voltage - develops across the sheet. Normally, the Hall voltage and Hall resistance (the ratio of Hall voltage proportional to the density of charge carriers, to current) are proportional to the strength of the magnetic field. Since the Hall effect also provides a handy approach for detecting charge carrier densities in various materials, the approach is commonly employed in physics laboratories today. In 1980, while studying the Hall effect in semiconductors at very low temperatures and in strong magnetic fields, German physicist Klaus von Klitzing discovered that even when the strength of the applied magnetic field was gradually increased, the corresponding change in electrical resistance occurred in discrete steps or jumps, exhibiting quantum properties. For this finding, von Klitzing was awarded the 1985 Nobel Prize in Physics. TSUI and Störmer further explored the quantum Hall effect by studying the electrons at a temperature that is only one-tenth of a degree Celsius above absolute zero (about minus 273 degrees Celsius) and under an extremely powerful magnetic field (equivalent to one million times the strength of Earth's magnetic field). It was found that the Hall voltage does not only change from a smooth line to a stepped or quantised effect, but each step is split into thirds. Such splitting can be interpreted as electrons condensing into a new type of quantum fluid that is stiffer than a solid crystal state. Yet, the occurrence of this Hall effect – called "fraction quantised" or "fractionated" – could not be explained by existing theoretical models until 1983. In 1983, Robert Laughlin presented his theoretical explanation of this discovery, proposing that in a strong magnetic field, electrons condense and create a quantum fluid in which their fractional charges became observable. The discovery of the fractional quantum Hall effect won Tsui, together with Störmer and Laughilin, the Nobel Prize in Physics in 1998 "for their discovery of a new form of quantum fluid with fractionally charged excitations". Shortly after the discovery of the fractional quantum Hall effect in February 1982, Tsui decided to leave Bell Laboratories for the position of Arthur LeGrand Doty Professor of Electrical Engineering at Princeton University and stayed there to nurture talents for 28 years, until his retirement in 2010. "Many of my friends and esteemed colleagues had asked me: 'Why did you choose to leave Bell Laboratories and go to Princeton University?'. Even today, I do not know the answer. Was it to do with the schooling I missed in my childhood? Maybe. Perhaps it was the Confucius in me, the faint voice I often heard when I was alone, that the only meaningful life is a life of learning. What better way is there to learn than through teaching!" Tsui remarked[7]. In late 1999, the Chinese-born American physicist returned to his alma mater Pui Ching Middle School together with his wife to share his stories with fellow students and even donated the gold-plated Nobel Prize in Physics medal to express his thanks. Even today, the medal is displaced at a prominent location at the School History Room. According to Pui Ching Middle School, at 11:00 am that day, students gathered in the main hall of the primary school to join the talk "Chat with your mentor – Daniel Tsui". A student cited the fact that he only scored 36 marks in physics examination and asked Tsui for tips on Physics. "Don't be disappointed if you don't get a good score on a test. It requires skill to do well in an examination. There are no tips to studying, but it takes time to understand what you are reading," replied Tsui. Several students who were able to talk to Tsui that day even said, "I didn't expect to be able to get so close to him and sit next to him." "It was like a dream ......" In their minds, their mentor was "easy-going, optimistic, down-to-earth...". Many alumni believe the Daniel Tsui's effect had a far-reaching impact at Pui Ching Middle School on students' enthusiasm for science.
"Chat with your mentor – Daniel Tsui"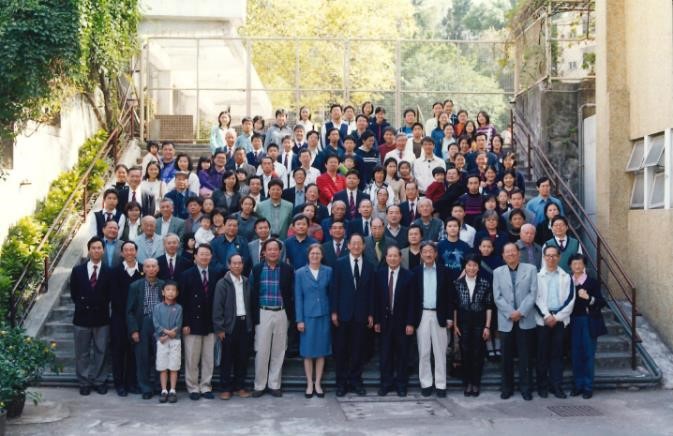 Group photo of Daniel Tsui, his wife and a group of Pui Ching alumni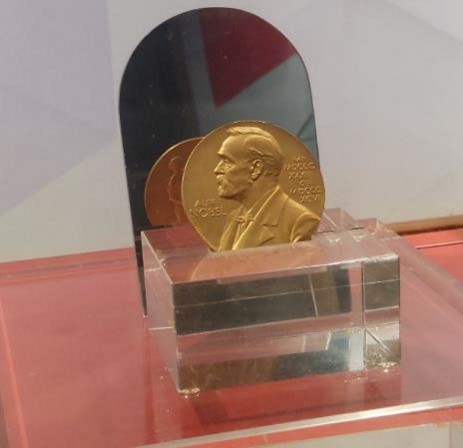 The gold-plated Nobel Prize in Physics medal Daniel Tsui donated to Pui Ching Middle School
When Tsui, a Chinese man who grew up in Hong Kong, was awarded with the Nobel Prize in Physics in 1998, news congratulating him for winning one of the most prestigious awards in science could be heard everywhere and his alma mater published all Tsui's minor acts when he was back to Pui Ching Middle School in its newsletter. It is no surprise that Tsui brings joy and encouragement to Hong Kong and his alma mater, and helps inject new impetus into Hong Kong's scientific community.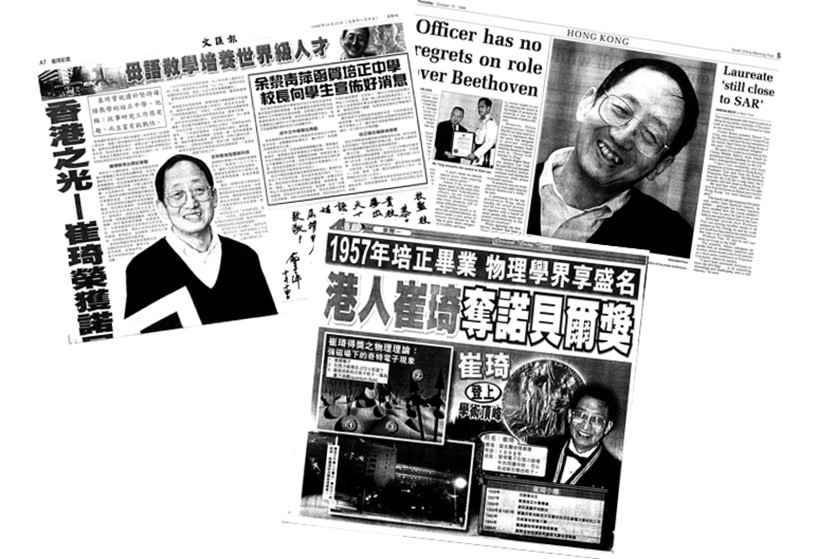 Extensive media coverage of Daniel Tsui receiving the Nobel Prize in Physics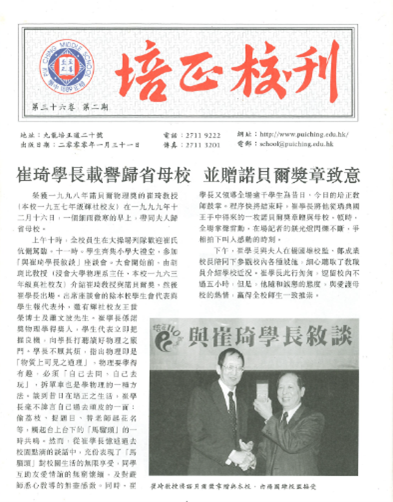 Pui Ching's newsletter
Yet, is fame important to Tsui? Lan Yang, a Chinese media proprietor, recalls, "I once interviewed Tsui at Princeton University and asked him a leading question, 'If your mother didn't insist on sending you to school, what would you be like today?' I was expecting an answer like 'knowledge can change one's fate'. Yet, he responded 'I would rather be an illiterate farmer, as long as my parents didn't starve to death.'"[8]. Maybe fame is important to some people, but to Tsui, perhaps the bonds and the connection between people are what he treasures most!
Reference:
The Nobel Prize in Physics 1998. NobelPrize.org. Nobel Prize Outreach AB 2022. 29 Mar 2022, from https://www.nobelprize.org/prizes/physics/1998/tsui/biographical/
The Nobel Prize in Physics 1998. NobelPrize.org. Nobel Prize Outreach AB 2022. 29 Mar 2022, from https://www.nobelprize.org/prizes/physics/1998/tsui/biographical/
Outstanding Chinese – Daniel C. Tsui, Radio Television Hong Kong, telecasting on 24 Dec,2005
The Nobel Prize in Physics 1998. NobelPrize.org. Nobel Prize Outreach AB 2022. 29 Mar 2022, from https://www.nobelprize.org/prizes/physics/1998/tsui/biographical/
Shui-yin Lo, James Shui-ip Lo, & Cheuk-yin Wong. (1999). Joy Of The Search For Knowledge, The: A Tribute To Professor Dan Tsui. World Scientific.
Outstanding Chinese – Daniel C. Tsui, Radio Television Hong Kong, telecasting on 24 Dec,2005
The Nobel Prize in Physics 1998. NobelPrize.org. Nobel Prize Outreach AB 2022. 29 Mar 2022, from https://www.nobelprize.org/prizes/physics/1998/tsui/biographical/
Interview with Yang Lan. Retrieved 29 Mar 2022, from https://www.ixigua.com/6821065266982552075.